Colored concrete has been a popular choice for residential properties, so you're most likely going to see a few colorful driveways or patios on any neighborhood street. In recent years, the same has been true for commercial properties as well. But when it comes to putting color on concrete, it's important to know about the different product options if you want to get the look you want.
The Difference Between Concrete Stains and Concrete Dyes
While a lot of people use both terms interchangeably, there are some major differences between a concrete stain and a concrete dye. Both of these terms can refer to a variety of products, and the right choice for you will depend on the type of concrete surface you're working with. It will also depend on the type of results you're hoping to achieve.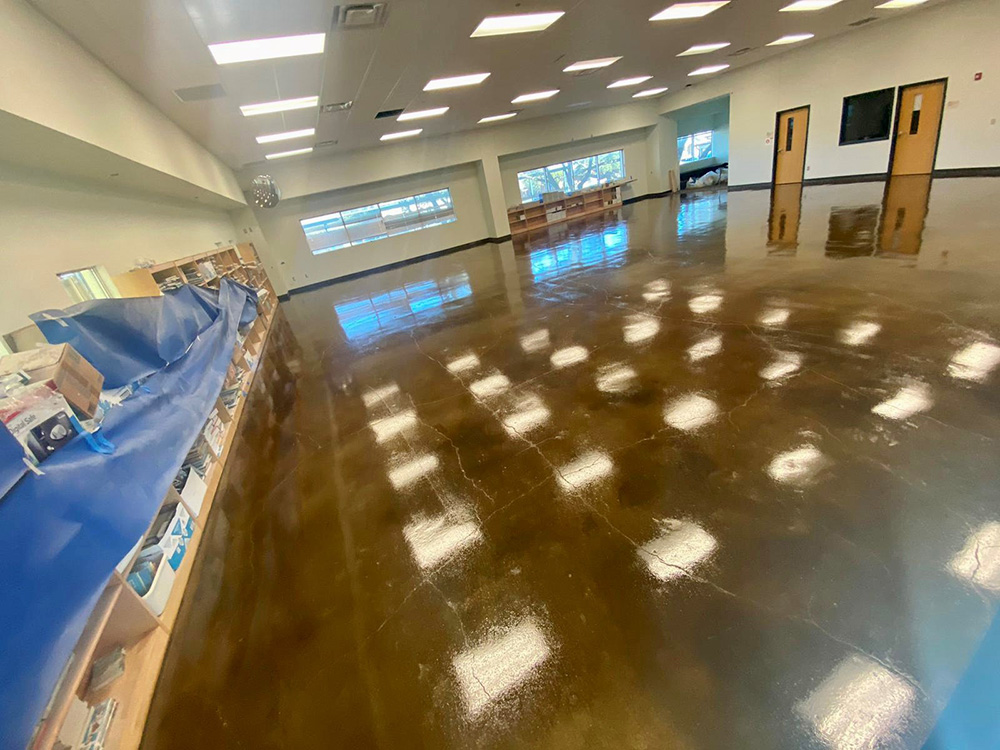 Types of Concrete Stains
Acid-based chemical stains react with the minerals within a concrete slab, which results in an etched surface in a number of earthy tones. If you add a stamped design, you can make your concrete surface look like anything from natural stone and polished marble to even stained wood. These types of stains are semi-transparent, so they won't cover any cracks or preexisting colors. Doing the right type of surface preparation is important, but it's especially true if you're working with acid-based chemical stains.
If you're looking for something other than earth tones but still want the stability and durability of concrete stains, you can use a water-based product. It will penetrate the concrete and can be found in a number of different colors. Concrete stains will work great on both interior and exterior projects. They can hold up well against UV exposure (in addition to normal wear and tear). While they have a limited color range, they can be used to create some amazing designs.
Types of Concrete Dyes
Concrete dyes don't react chemically to concrete, so there isn't as much "educated guessing" involved in its application. The color that comes out of the package is the color you're going to get. Concrete is porous by itself, while concrete dyes are made of tiny particles that will penetrate the surface. This process will have a striking end result, and it happens rather quickly. So, there isn't a lot of room for mistakes. That's why you need to have a plan before you get started.
Concrete dyes can be either water or solvent-based and can find them as a powder, in a solution, or as a liquid concentrate. They have a color range that's practically limitless, but mixing them to get the proper hue is entirely up to you. They don't hold up well against ultraviolet light, so they're better suited for interior projects. If you want to use them for exterior applications, it should be used with a UV sealer.
Finding the Best Product for Your Concrete Project
There are some situations where you can use both a concrete stain and a concrete dye to get the look you want, but there are some general guidelines that can help you to decide if you should use one or the other. For exterior surfaces, concrete stains are a better choice because they're better at withstanding ultraviolet light and aren't as likely to wash away when they're exposed to the elements. If you want to use a dye, you will need to treat it with a UV sealer (even if you're treating an interior surface).
It's also better to use a concrete dye if:
You want the surface to look like another material (such as polished marble or tanned leather).
Your color palette calls for earth tones (such as terra cotta or tan).
Concrete dyes are more suitable if the project requires a broad range of colors and unique hues. Assuming you have some knowledge of color theory, you can mix different dyes to create a broad range of hues. Concrete dyes are also a better choice if:
You want to add a subtle effect to acid-stained concrete.
You want the floor design to have layered, variegated effect.
You want your floor to have bold colors (though they can be diluted to create a watercolor effect).
You're on a tight timeline. Dyes don't leave any residue behind, so it can be applied more quickly. Cleanup will be quicker as well.
Whether you want to use an acid stain or a concrete dye, USA Concrete Coatings can help you. We're one of the best places for staining concrete in Corpus Christi, so be sure to reach out to us.