Residents of Corpus Christi know what the buildup of elements can do to their homes. If you let it go for too long, your entire property can look dull and dingy. Power washing can be a great solution to this problem. It's one of the most effective and least expensive ways to make your property look better. It involves the use of water that's sprayed under high pressure, and it can be used to remove any of the following:
Loose paint.
Mold.
Algae.
Grime.
Dust.
Chewing gum.
Dirt.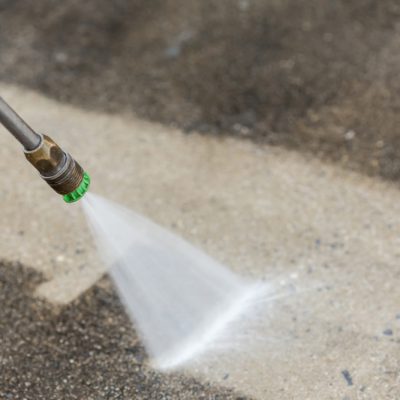 Some of the surfaces that can be cleaned with a power washer can include but may not be limited to:
Buildings.
Fences.
Masonry.
Some vehicles.
Concrete or asphalt surfaces (such as driveways and patios).
The terms "power washing" and "pressure washing" are often used interchangeably, but they're two different processes. Both of them use water under high pressure to clean surfaces, but power washing has a heating element that's used to raise the temperature of the water (which isn't done in pressure washing).
We Know How To Clean
Just like any other cleaning process, heated water cleans better. Some things need to be power or pressure washed with additional chemicals, which can include the following:
Baking soda.
Vinegar.
Citric acid.
Commercial power washing soaps.
Detergents.
Sanitizers.
Disinfectants.
Because there are power washers that you can buy at home stores, you may think you can do it yourself. But, the kind of power washers that you rent from these stores are meant for residential purposes. So, you can benefit from a commercial grade power washing service.

Knowing What to Power or Pressure Wash
The idea of giving your house, deck, or driveway a good steam cleaning may sound appealing to you. Hot water running through a high-pressure hose will take off almost any kind of dirt or stain, but it's not the best choice for brick, concrete, or any other type of masonry. All that cleaning power comes with a price. Power washing can be hard on those types of surfaces, so it's better to use a pressure washer with the right cleaner.
Power washing is a more heavy-duty option that can be used to clean large areas (such as extra-long or big driveways). It's also good in areas with a great deal of dirt, grease, moss, weeds, or mold. The heated water can loosen up any grime that's stuck on outdoor surfaces (just like hot water cleans dishes and floors). It will even kill the mold and moss, which can prevent them from coming back.
Pressure washing is a safer option that's more suitable for the following:
Small patios, decks, and driveways.
Softer surfaces (such as wood decks, siding, and tiled areas).
Masonry, concrete, and brick.
Not all cleaning solutions are the same, so it's important to understand their differences. Each chemical is labeled according to their intended purpose and the type of surface for which they're most suitable. Cleaners remove dirt, while sanitizers kill most (99.999% of bacteria in 30 seconds or less). Disinfectants will kill all organisms in 30 minutes or less.

What Can't Be Cleaned with Power Washing
Every surface is different. So, each one will require different techniques, nozzle sizes, pressure settings, and cleaning chemicals (where they're needed). Make sure you get the right solution for the surface you want to clean, and not every surface can be cleaned with power washing. Some of them can include, but may not be limited to:
Laminar Sandstone — It will either wash it away or put grooves into it. It's too soft of a material to be power or even pressure washed.
Painted Surfaces — while painted items can be washed, it usually takes a professional to do it without destroying the paint.
Asphalt Roofs — Either power or pressure washing will take the granules off of an asphalt shingle, which will destroy the roof.
Anything Old (No Matter What it is) — Old things (including furniture, decks, and wood buildings) could have dry rot that will disintegrate if it's power washed. Even a good wood can be soft and get damaged under the pressure.
Stained Wood — Power or even pressure washing can take the stain off the wood. If that's what you want to do, then go ahead and do it. Otherwise, you will have to re-stain it after the wood has dried.
The primary benefit of using hot water is that it's a more a more effective and efficient method of achieving a deep clean, which is why it's better suited for larger areas. It's also a good option for surfaces with a great deal of salt, mildew, moss, or weeds.
If you're looking for one of the best places for power washing in Corpus Christi, be sure to reach out to USA Concrete Coatings.