Everything from hard freezes to extremely hot summers can affect a concrete patio. And once it starts to show signs of aging, it can be a proverbial eye-sore in your yard. Concrete patios with minor surface damage, but in otherwise good condition can be restored with concrete resurfacing. So instead of building a new one, you can upgrade its appearance and strength with a concrete coating. A resurfaced concrete patio can be stamped, stained, or stenciled. You can even add some color to give it a new look.
There are a number of options for concrete patio coatings, but the choice you make will depend on the type of work you want done. Patio paint will be the least expensive option, but it doesn't handle wear and tear as well as some of the other options on the market. It will also need to be replaced more often. Epoxy coatings will protect the surface from water damage, and it can handle some wear and tear. It can also give your concrete patio a more colorful look. Stamped concrete overlays can add color, patterns, and texture to your patio. It can also make the surface stronger and more durable.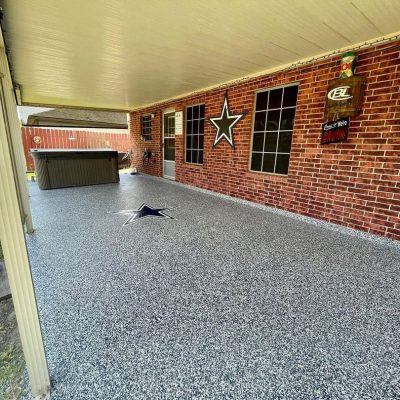 Possible Finishes for an Existing Concrete Patio
If you want to give your concrete patio a little more personality, you have a number of options. Some of them can include, but may not be limited to:
Colors — Can make your patio look more natural with popular Earth tones.
Patterns — Can stamp your patio so it resembles natural materials (such as wood or stone).
Stencils — Can add logos and graphics to your patio.
Borders — Can add a cost-effective design with a contrasting color or pattern.
Be sure to speak to a professional for options on what you can do with your concrete patio.
Steps Required for Sealing a Concrete Patio
A concrete patio is resurfaced and sealed by performing the following steps:
Fix cracks in the concrete patio with a sealer or filler.
Power wash and sweep away debris.
Grind the surface so the overlay can bond better.
Combine the overlay components while also adding grit additives or coloring agents.
Spread the overlay onto the area you want to refinish.
Add a protective coating that will keep your patio looking great.
The cost of this process will depend on the size and detail of the surface, but it will be more cost-effective than removing the existing concrete and pouring a new slab. A new concrete patio can cost significantly more, depending on the size and detail of the design. Resurfacing an existing one will cost less per square foot, which makes it a less expensive way to get the look and feel of a new patio.
If you're looking for one of the best places for restoring, coating, and sealing concrete in Corpus Christi, be sure to get in touch with USA Concrete Coatings. We would love to speak with you about your specific needs!