Resurfacing a concrete driveway can be a great way to give your home more curb appeal. Whether your driveway is cracked, discolored, dated, or damaged, a coating or overlay can be used to give it a more attractive appearance. Resurfacing is a good option if you want to make your existing concrete look brand new. We can apply it directly to the concrete without having to rip anything out. This can save you time, hassle, and money. You can even customize the coating to meet your specific design needs.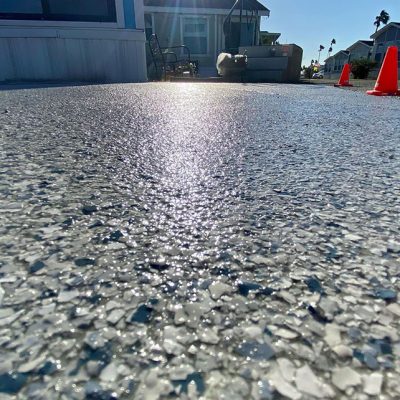 Steps for Resurfacing a Concrete Driveway
Also called "driveway refinishing," resurfacing a concrete driveway is an involved process that requires the proper use of the right tools and products. Here is a general overview of the process involved in applying a concrete coating for a driveway:
Repair Damage — Fix any cracks on the existing concrete surface with a sealer or filler.
Clean the Surface — Remove all dirt, oil, and other types of debris from the surface. Use a pressure washer to remove any dirt and grime, because a concrete surface that has been thoroughly cleaned will provide a better canvas for the concrete coating.
Prepare the Surface — Grind, etch, or acid wash the concrete to make the surface more porous. This will allow the overlay to bond better to the existing surface.
Mix the Materials — Combine the overlay components so it can be ready for application. You should also add any additives or coloring agents.
Apply the Coating — Spread the mixed overlay onto the surface with a trowel and allow it to dry. It takes at least 24 hours after you apply the concrete coating for it to dry, but you always want to check the product label to be sure.
Seal the Surface — After you have waited the right amount of time for the coating to dry, the last step is to seal the surface. This protective coating will keep your driveway looking its best.
While you can do all of it yourself, it's not the type of DIY job you can take lightly. It needs to be properly applied, or your driveway can experience certain issues (such as chipping or bubbling). You also don't want to resurface a driveway that has been severely damaged, because a concrete coating won't last on a surface that isn't viable. If your existing slab has large cracks or areas that are extremely uneven, you may have to demolish the entire driveway so it can be rebuilt. Make sure you speak to a professional, so you can get an expert opinion.
Cost to Resurface a Concrete Driveway
The average cost to resurface a concrete driveway is approximately $3 to $20 per square foot, but the exact cost can depend on several different factors. Some of them can include but may not be limited to:
The condition of the existing surface.
The additives you want to include in the overlay.
The number of color options you choose.