While installing and maintaining a concrete pool deck can be expensive, pool decks and patios are often overlooked. This can create a huge problem for property owners. If you want to make sure that mold, mildew, water, and UV rays don't cause damage or deterioration, it's important to seal the concrete surface around your pool. If it gets cracked and dirty, weeds will grow between the pavers (which can cause an unpleasant visual fade). There may even be structural dangers that can result from this type of damage, which can be expensive to repair.
Pool decks are usually made of stamped concrete, pavers, slate, or exposed aggregate concrete. Because of the damage that water and other exterior elements (such as UV exposure) can do to a concrete surface, it's a good idea to seal your pool deck. Depending on the type of finish you're looking for, you can use a natural/flat sealer or a high gloss/wet sealer.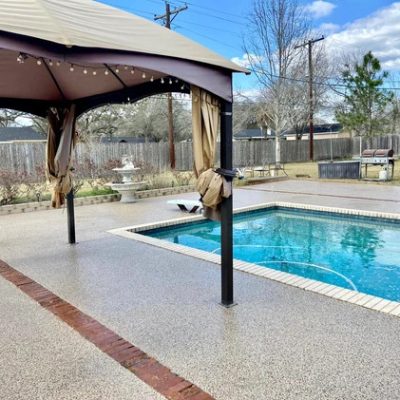 Factors to Consider When Coating a Pool Deck
When it's time to choose a concrete sealer for your pool deck, there are some things you should take into consideration. Are you more concerned with protecting your pool deck from various forms of damage (such as spalling pitting or cracking), or are you also looking for a more decorative look? You may want your pool deck to have a glossier finish, so you can enhance the colors and textures of the substrate.
Popular Options for Pool Deck Coating
Here are some of the popular options for coating and resurfacing a pool deck:
Pool Deck Paint — This is the most expensive option and is easy to apply, but it won't last very long. It will need to be reapplied at least once a year, so your maintenance costs will be higher over the long term.
Spray Texture Overlay — This is one of the most popular choices, because it has a subtle texture that's comfortable and safe to be used in barefoot areas. Custom colors, score lines, and aggregate effects can also be used if you want your pool deck to have a more personalized look.
Stamped Concrete Overlay — This is a good option if you want to repair a damaged concrete surface while also adding a decorative element because it can be made to look like natural stone, brick, or even wood. It may be more expensive to install, but it's still more cost-effective compared to doing a new pour.
Rubber Coating Systems — You will often see this type of concrete coating in children's playgrounds. This soft, safe, and colorful option can be applied on top of your existing pool deck. But, it won't have as many design options as other types of concrete coating.
Epoxy Pebble Finish — This type of resurface is made of decorative pebbles that are mixed into an epoxy. It can be installed quickly for a seamless look, and it can offer a variety of color combinations. The only downside to this option is that the pebbles could come out as a result of wear and tear.
If you're looking for one of the best places for coating concrete in Corpus Christi, be sure to reach out to USA Concrete Coatings.