There's a great deal of debate on whether sealing driveways and other concrete surfaces is really necessary. If it is, how often does it need to be done? The aggressive marketing campaigns from companies that sell concrete sealing products could be the reason for the common belief that applying a sealer to these surfaces at least once a year is a good idea, but everyone agrees that periodic sealing can prolong the life of any concrete surface (whether it's a driveway, patio, pool deck, or sidewalk). Concrete can perform reasonably well if it's never sealed but applying a sealer every few years can improve its longevity and keep it looking good. This is especially true if you have a concrete driveway or patio that's stained or etched.
Types of Concrete Sealers
There are several types of concrete sealers, and each of them has its own set of properties. It's important to understand the differences between them before you make a decision. Some of the common types of concrete sealers include:
Acrylic Resin-Based Sealers — These types of sealers create a film of acrylic resin and can provide a great deal of performance for their cost. They can also be blended with polyurethane, epoxy, or silicone to improve their durability. There are different types of acrylics, and some of them are better than others. Styrene acrylic is a lower-performance product that could turn yellow when it's exposed to direct sunlight, while virgin or pure acrylic resin is a better product that will last longer and won't turn yellow.
Epoxy or Polyurethane Sealers — These types of sealers are more expensive than acrylics, but it doesn't mean they're better. They create a thicker layer, so they can be slippery (especially if they're applied to a patio or walkway). These products can also keep the concrete from "breathing" moisture out, which can be a problem. If the concrete isn't allowed to breathe, a white haze can form under the sealer layer.
Penetrating Sealers — These types of sealers are made of special resins (such as silicones, siloxanes, and silanes) that penetrate the concrete to form a chemical barrier to water, oil, and other contaminants. These products will be clearly labeled as "penetrating" sealers and are a good option if you want to protect the surface from stains, which is why it's an excellent choice for garages and driveways.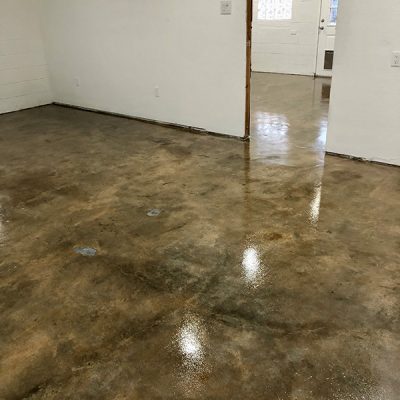 The best concrete sealers will be found at professional concrete supply retailers. The inexpensive products are sold at hardware stores, while the intermediate-level products are usually found at home centers.
Gloss Levels for Concrete Sealers
Concrete sealers can come in a variety of gloss or shine levels. You can choose from a number of no-gloss, matte, satin, semi-gloss, gloss, and high-gloss options. Manufacturers define gloss levels based on a scale of 1 to 100 (with 100 being the highest). There's no standard gloss level for concrete driveways or patios. But if you prefer a high-gloss sealer, you may want to think about adding a non-slip topcoat for wet weather.
Here are the gloss levels for some of the more common types of concrete sealers:
Solvent-based sealers: A gloss level of 80-100 (which produces a high-gloss finish).
Water-base sealers: A gloss level of 50-80 (which produces a matte or semi-gloss finish).
Penetrating sealers: A gloss rating of 0 (which produces a no-gloss finish).
Solvent-based sealers can make the concrete surface look darker than water-based sealers, and any products that are marketed as "wet-look" have a higher ratio of solids in the liquid. While some people like wet-look sealers, other don't think they look natural. This is especially true on stamped, colored, or textured concrete surfaces (such as on patios or pool decks). Some wet-look sealers also have coloring agents that can be used to stain a slab (in addition to sealing it).
Steps for Applying a Concrete Sealer
Here is a basic overview of the steps for concrete sealing:
Remove all oil, grease, stains, dirt, and dust from the concrete.
Remove any existing sealer from the surface.
Open up the concrete with an etching solution.
Apply a thin coat of sealer with a roller or sprayer.
Wait for the first layer to dry.
Apply a second coat of sealer in the opposite direction.
Allow the sealer to dry completely before walking or driving on the surface.
While a lot of people try to seal their own concrete, the process is harder than you think. If you want to be sure it's done correctly, you should hire a professional to do it for you. If you're looking for one of the best places for sealing concrete in Corpus Christi, be sure to get in touch with USA Concrete Coatings.